Applications that require dispensing at multiple positions during a single fill cycle may use a Dividing Head assembly. The Dividing Head assembly is mounted on the column of the fillhead, beneath the hopper. Dividing Heads include a 2-way adjustment to "balance" the amount of product dispensed at each position. A typical Dividing Head assembly is shown in Figure 13.A Procedure describing how to adjust and balance Dividing Heads is contained in a Supplement to this publication.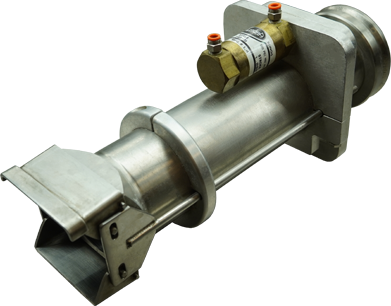 Cutoff Devices
DUAL FLAPPER CUTOFF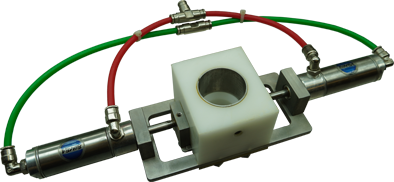 Cutoff Devices
SLIDE BLADE CUTOFF
Some products, usually sticky, gooey or runny in nature require a slide blade cut-off. Think about products similar to putty or thick pastes or peanut butters/nut butters. These products tend to string out so a slide blade cut-off is a positive way to slice through or cut directly through the products. The slide blade consists of a pneumatic cylinder that actuates and oftentimes a string or a flat piece of stainless steel slides in and out to positively control the tail of the exiting product.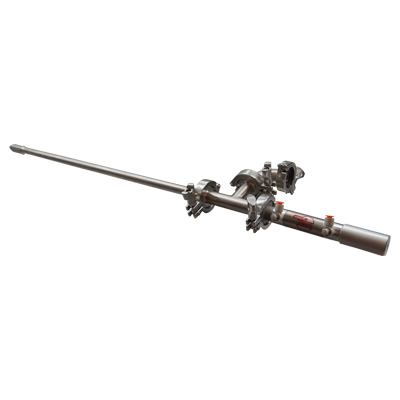 Cutoff Devices
PLUG ROD CUTOFF
Plug rod cut-offs are essential for positively stopping the flow of liquid or wet products, typically used in conjunction with a pneumatic piston filler but also adaptable to auger filling machine in some applications. The plug rod cut-off ensures that there is no drip during a liquid fill and ensures good accuracy and cleanliness. The plug rod can be programmed to open/close and is operated pneumatically and with limit switches for on/off (open/close).
Cutoff Devices
POSITIVE CUTOFF
Positive cut-offs are typically either a double flapper gate or cone that positively closes to eliminate drip.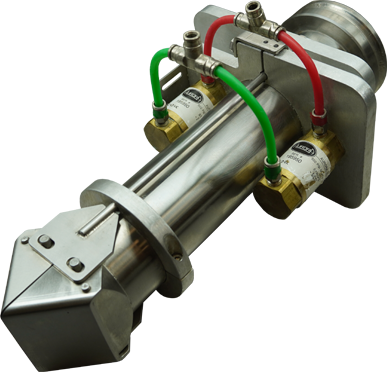 Cutoff Devices
FLAPPER GATE CUTOFF
Flapper gate cut-offs are used on products that fall in between free flowing and non-free flowing characteristics. These products are often referred to as "tweeners" because they fall "in between" these primary product flow categories. The flapper gate cut-off, also referred to a variation of the "duck bill cut-off" is a positive cut-off device that is controlled pneumatically and programmed via the HMI. There are two flaps or gates that open to allow the product to flow and swiftly close to perfectly cut-off product flow from the auger. Flapper gate cut-offs are conveniently used for many auger fillers and VFFS (vertical form fill seal) applications to ensure that product that would regularly drip does not contaminate the seals of the vertical bagger. The flapper gate cut-off is an add on to the funnel that house the auger. Utilizing a yoke system the gates are pneumatically opened and closed for positive product cut-off.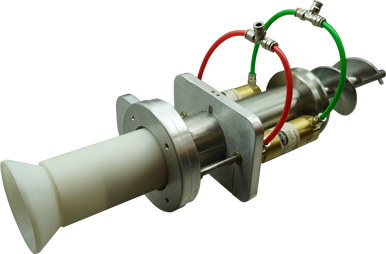 Cutoff Devices
CONE CUTOFF
Cone cut-offs are great for the very dusty "tweener" products. The cone cut-off utilizes a plastic sleeve and a plastic cone shape end piece that attaches to the last flight of the auger via the stem. The cone moves upward in the sealed position and downward in the filling position. The exiting product is trapped between the tapered cone and the cylinder for which it fits perfectly into when sealed.