When you hire a contractor for auger installation, you need a reputable manufacturer. After all, the consistency and uniformity of the material depend on the type of horizontal auger employed. As a leader among auger manufacturing companies, we produce horizontal and vertical augers, along with tool assembly parts. Our Downingtown, Pennsylvania-based company customizes long-lasting components according to each customer's needs. For that, we use various flighting when fabricating horizontal augers. This ensures that material meters are more accurate and quick based on flow characteristics. For free-flowing materials, we use straight flighting. For non-free-flowing materials, a self-feeding vertical auger with overflight is used.
Affordable Cost From One of the Top Auger Flighting Suppliers
Ranked among the most trusted auger flighting suppliers and screw conveyor manufacturers, we produce superior products. For this, we use two primary techniques. While both consist of combining a shaft with a helicoid, one uses welding while the other machining. As one of the top auger flighting suppliers, we work with different materials. We use solid stainless steel due to its incredible advantages. These include:
A concentric outside diameter to root diameter, thereby preventing the risk of premature wear and tear
Precision flight pitches, ideal for gentle and accurate metering
Sanitary construction void of crevices and pits, making the material a perfect choice for both pharmaceutical and food applications
With years of industry experience, we understand that processing materials can be costly. But in exchange for a high-quality product, we maintain a competitive auger flighting price. Our customers end up with a long-lasting and robust component but without paying an exorbitant cost.
Turn to a Manufacturer That Produces an Industrial Grade Horizontal Auger
For an industrial application, you need a horizontal auger that can handle the job. Regardless of the material your company works with, we make an industrial horizontal auger from premium material. The auger can withstand high usage, corrosion, and abrasions. For accessories that work with all major manufacturers, including All-Fill, AMS, Mateer-Burt, Bartelt, Spee-Dee, and Per-Fil, contact us at Auger Fabrication, Inc in Exton, PA.
FLIGHTING

SQUARE STOCK FLIGHTING

DIMENSIONS & SPECIFICATIONS

E: Outside Diameter:
C: Thickness:
D: Inside Diameter:
B: Pitch:
A: Overall Length:
Material:

Direction of Flight:

DIMENSIONS & SPECIFICATIONS

E: Outside Diameter:
C: Thickness:
D: Inside Diameter:
B: Pitch:
A: Overall Length:
Material:

Direction of Flight: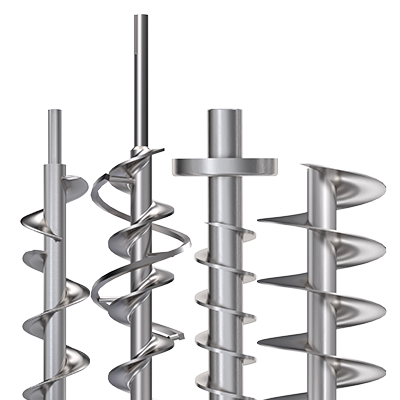 Horizontal Augers
HORIZONTAL AUGERS
These augers are typically used for metering/feeding products into bulk hoppers. The purpose of the horizontal auger is to control bulk density of many non-free flowing products to condition the product prior to entering the filling hopper. Horizontal augers come in many different lengths and diameters and can be customized per application. In some instances, horizontal augers are used to feed scales for very accurate bulk filling applications, but this method is relatively slow in comparison to vertical auger filling. Oftentimes a vertical auger is used when there are height concerns in a customer's facility and a vertical auger will not fit.
Request a Consultation With An Expert
We're easy to talk to for all inquiries, questions or comments. Complete the form and one of our sales representatives will contact you to further discuss your needs.