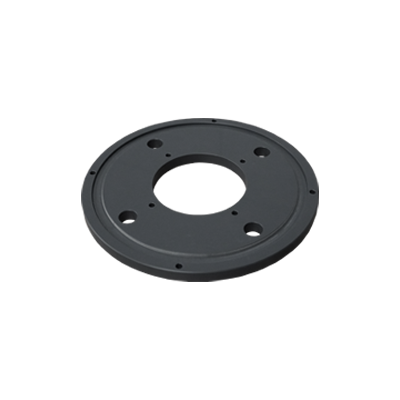 Collector Funnels
COLLECTOR FUNNEL COVER
Used primarily for free flowing products, the collector funnel cover clamps to the straight funnel and utilizes J-bolts or a hopper ring to attached the collector funnel. The collector funnel cover ensures that the product is contained as it comes off of the spinner plate and it provides for a rugged connection point for the collector funnel. The cover is typically made from food grade delrin plastic but can also be made out of stainless steel for unique applications. The collector funnel covers contains vent holes and vent plugs, oftentimes venting the collector funnel cover can help promote product flow for increased drainage times when dealing with free-flowing applications.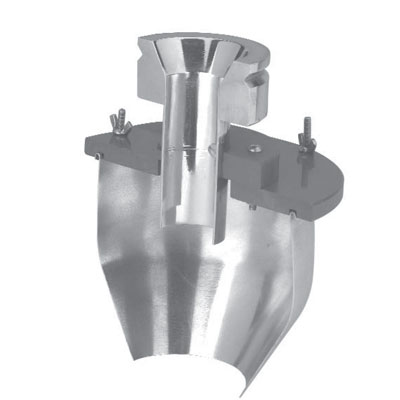 Collector Funnels
COLLECTOR FUNNEL
Free flowing products and tooling generally require a separate collector funnel assembly. This assembly consists of a collector funnel, collector funnel cover, and clamp ring. Auger Fabrication can supply complete assemblies, as well as individual items, for collector funnels used on all manufacturers of filling machines. There are three main types of collector funnels; standard collectors, cone collectors, and collector funnels with dust shrouds. Each style of collector funnel is attached to the funnel containing the auger via a clamp ring and collector funnel cover. Most free flow products rely on air displacement in order for the product to drain better, it is very important to vent the collector funnel cover. Typically, the product is dispensed upward and outward, not ideal to fit most container openings. In order to collect the product that is being dispensed, a collector funnel is used to neck down the product stream. When dealing with larger particulates, or particulates of varying sizes, the auger and funnel sizes are mismatched; this is often called "clearance." Clearance is important not only to accurately meter the product but also to ensure product integrity. Not using enough clearance can result in product degradation. Product degradation changes the aesthetics of the product when packaged in clear containers.
Request a Consultation With An Expert
We're easy to talk to for all inquiries, questions or comments. Complete the form and one of our sales representatives will contact you to further discuss your needs.