Our stainless steel augers and funnels for filling machines are polished to a mirror finish so they can be high-quality precision tools. Auger stems and O.D. flights are exactly concentric to avoid erratic dispensing. They are available with the proper stem end fitment (bayonet, single or double key, etc.) for direct replacement in the specified filling machine.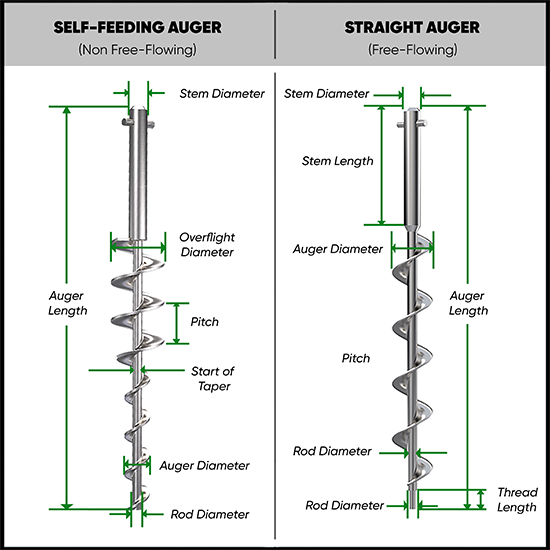 | | | | |
| --- | --- | --- | --- |
| STEM END FITTINGS | Bayonet | Double Key | Single Key |
| Augers for Filling machines have a specific type of end fitting dependent upon the make of the machine. Check the desired stem as shown to the right. | | | |
A lot of people believe that all auger manufacturing is the same. In reality, there are vast differences from one company to another. At Auger Fabrication, Inc., we value all our customers. As such, we manufacture an excellent vertical screw conveyor, also referred to as a vertical auger. This machine component plays a critical role in the handling and processing of materials. While a horizontal auger feeds material into a hopper, a vertical screw conveyor is what meters and dispenses the product.
Utilizing us as your preferred vertical screw conveyor manufacturer, you won't have to worry about premature wear. We also use premium materials that resist both corrosion and abrasions. Our competitive prices on all fabricated products combined with having the installation of a vertical auger conveyor done by a qualified contractor mean you'll save both short- and long-term.
Get a Stainless Steel Vertical Screw Auger at a Competitive Cost
Just because we manufacture a top-of-the-line commercial vertical auger doesn't mean you have to spend a fortune. We take great pride in customizing products based on the customer's needs while still keeping the cost of a vertical auger affordable. This accomplishes two goals. First, it helps build our company's reputation. Second, and most importantly, it helps keep operational costs down for the customers we serve.
Although our commercial stainless steel vertical augers rank among the best, there's no reason to spend more than you should. One of our company representatives will determine the appropriate type of vertical screw based on your needs and budget.
We Manufacture Quality Automatic Vertical Augers
If you have packaging equipment that utilizes an automatic vertical screw feeder, we can assist with that as well. Regardless if you're in the market for a free-flowing or automatic vertical auger that self-feeds, we offer the same quality and affordability. To ensure your 100 percent satisfaction, we use different materials, flighting, and manufacturing techniques. Our company is based in Downingtown, PA. Give us a call today to learn more.