For certain applications, custom auger flighting may be required to run your product effectively. At Auger Fabrication, we have encountered many challenging products through our years of application testing and installations. We have the experience and industry expertise to help you solve the most uniquely challenging products.
We'll design custom screws in our plant in Downingtown, Pennsylvania just for your operation. Options including plastic, brass or stainless, straight, self-feeding, conveying, tapered, overflight, single flights, double flights, dual agitation, and more. Our experienced engineers and fabrication team can build the custom auger for your unique filling challenges. If you want to make an order or ask a question, our highly-trained and experienced staff are standing by to assist you.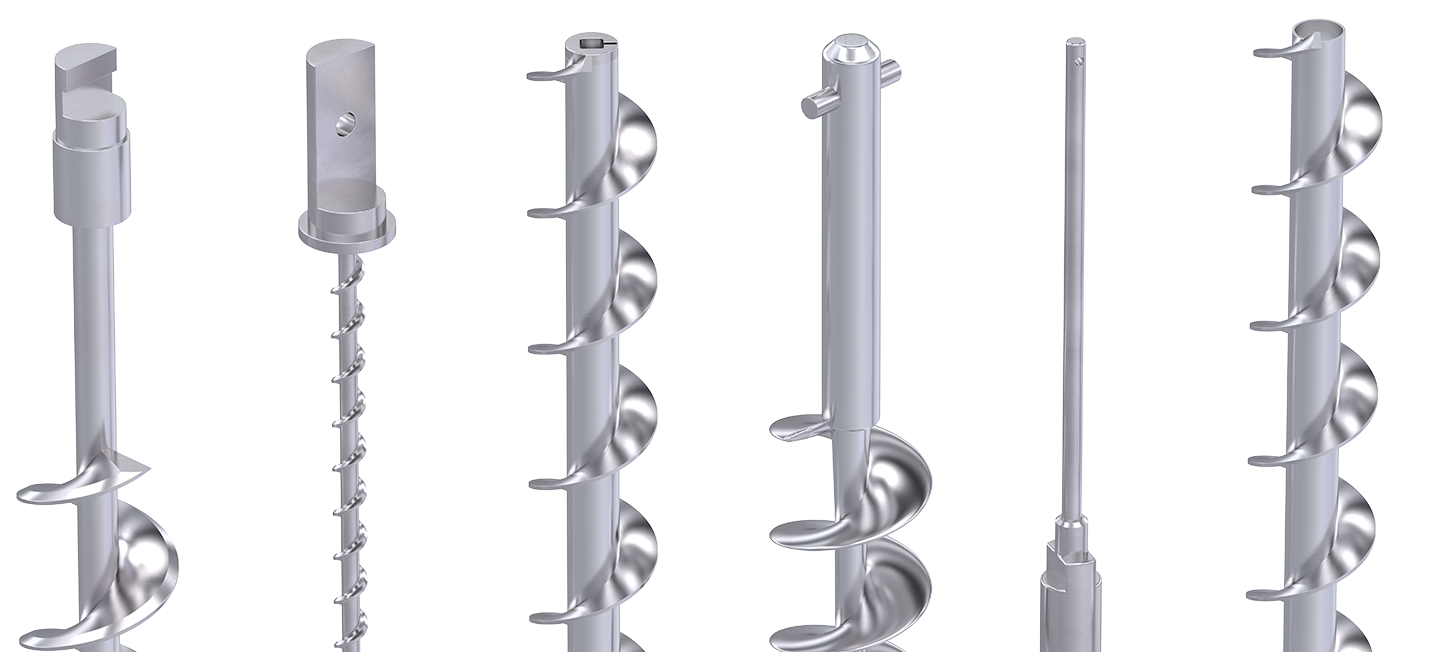 Prior to discussing any details about our product offering, we highly recommend sending sample products, bags, labels, and containers for free evaluation and testing. At Auger Fabrication we believe there is a packaging solution to every challenging application; please allow us the opportunity to work alongside you as we find the right custom auger for your product.
When ordering your next custom auger, don't forget that Auger Fabrication also manufactures a variety of custom stainless steel funnels including straight, lip, and collector funnels built to your exact specification.
We also supply to a large number of original equipment manufacturers for the vertical and horizontal industries, including:
Vertical Auger Filler OEM's
Horizontal Auger Filler OEM's
All-Fill, Inc.
All-Fill Inernational
AMS
Per-FIl
Spee-Dee
Mateer-Burt
Image Fillers
Paxiom
Rovema
Goglio
Fres-Co Systems
Nalbach Engineering
Sanko
AS&E (Automation Supply & Engineering
Abamex
ArtyPac
Pneumatic Scale
RoPack
Optima
Weigh Pack
All-Fill International LTD
I.C.A
HMC & Bartelt / Kloeckner
Prab / Hapman
Kason
Merrick
Sentry
Schenck Accurate
Follett
Marchant Schmidt
AEC / ACS
Coperion K-Ton
Sterling Systems
Web-Tech
Rospen
Plastic Auger Manufacturing
Auger Fabrication can manufacture an array of plastic augers, most notably, Delrin, Erylite, UHMW, Accetal, Nylatron, & Teflon. They are used either on applications where a metal detector is present for both vertical and horizontal fillers. Plastic augers are also used for products that react negatively to stainless steel or carbon steel augers. Plastic food augers are a common application. They are FDA-approved and have high wear resistance.
Poly Auger Flighting Repair and Replacement
Auger Fabrication can repair poly auger flighting or create a replacement auger for almost any size or application. Contact us for a quote on custom auger repair and replacement.
Request a Consultation With An Expert
We're easy to talk to for all inquiries, questions or comments. Complete the form and one of our sales representatives will contact you to further discuss your needs.